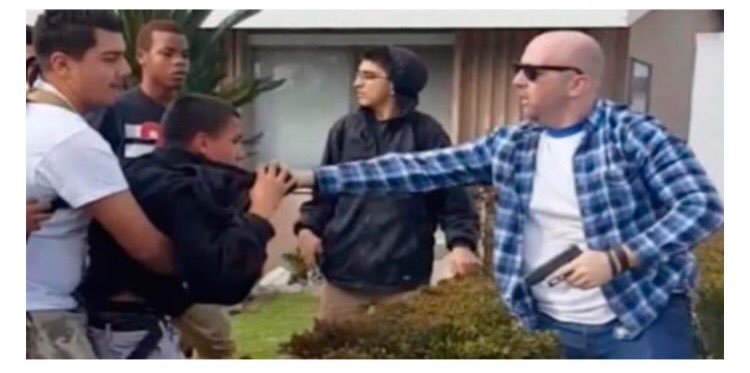 A horrific confrontation caught on video showing off-duty LAPD officer Kevin J. Ferguson manhandling Christian Dorscht and discharging his weapon leads to the arrest of 2 teens and the officer free to walk away.
Be careful where you read this story because there are obvious agendas depending on where you get your source from. LosAngeles.cbslocal.com/ describes the encounter like this:
"Video footage of the incident appeared to show the officer being increasingly threatened by a crowd of teenagers gathered at the scene, including one boy seen in the video throwing a punch at the officer and another who attempted to tackle the officer while his back was turned."
However they manage to leave out crucial details as to how the confrontation took place. For starters, Kevin J. Ferguson never identifies himself as a police officer in the video nor does he show any identification. According to EverIPedia.com, the incident began when the 13-year-old Christian Dorscht defended a female schoolmate after Los Angeles police officer Kevin Ferguson called her a derogatory name after she stepped on his lawn. Christian Dorscht told the off-duty officer not to talk to her like that or he will "sue" him. Apparently Ferguson misheard Dorscht and thought he said that he will "shoot" him. That is when the off-duty officer grabbed Dorscht and attempted to detain him.
In the video, you can hear Dorscht say the officer kicked him in the testicles and repeatedly tells the officer that he said he would "sue" and not "shoot" him. After a few minutes of struggling, Dorscht's friends decide to jump in and help as one attempts to push Ferguson to the ground and another swings at the officer. That is when Ferguson reaches in his waistband and pulls out his firearm. Now whether intentional or not, the gun fires but luckily no one was struck. Officers later arrive at the scene and arrest the teens but leave the off-duty officer free to leave.
Dorscht's mother Alma Jimenez, stated this on the Youtube video that was posted.
"yo soy la madre de este niño en el video. El se llma Christian y solamente tiene 13 años. El es in buen niño sin ningun record criminal Por defender a su amiga de classes fue maltratado asi como de ve en video. El hombre en este video es in polecia del condado de Los Angeles California. El odficial quien en el momento de los hechos estaba "off duty" le disparo a mi hijo y gracias a dios le fallo el tiro. Se llevaron a mi hijo detenido con cargos de "assault and battery" y "Terorrist threats". La fecha de los hechos es martes 21 de Febrero 2017. Todo comenzo despues de que salio de la escuela a las 2:30 pm. El departamento de polecia de Anaheim "Anaheim police department" aparte de arrestar a mi hijo y al individual que lo attaco no, detuvieron a mas de 20 estudiantes que fueron testigos de los hechos. Despues de estar mas de 8 horas esperando a que me dijieran algo me avisan que lo van a trasladar al juvenile hall de Orange County. Habiendo tat is testigos y videos no sueltan a mi hijo solamente porque el individual que lo attacko es un police officer quien estaba off duty. Estoy desesperada porque contacte a varios abogados y me cobran demasiodo por sus servicios. Se que Eres una persona de bien y justa. Te pido de Corazom que por favor me puedas ayudar a comparative este video ya ke mucha jente lee tu pagina se comparta esta injusticia y hojala alguien pueda ayudar con sus prayers #prayforchristian"
Provided by – Google Translate:
"I am the mother of this child in the video. He is Christian and he is only 13 years old. He is a good boy without any criminal record. For defending his class friend he was mistreated as well as watching video. The man in this video is in politics from Los Angeles County California. The official who at the time of the event was "off duty" shot my son and thanks to God he failed the shot. My son was taken away on charges of "assault and battery" and "Terorrist threats". The date of the events is Tuesday, February 21, 2017. It all started after he left school at 2:30 pm. Anaheim Police Department Anaheim Police Department, in addition to arresting my son and the individual who arrested him, arrested more than 20 students who witnessed the events. After being more than 8 hours waiting for me to be told something I will be transferred to the juvenile hall in Orange County. Having witnesses and videos do not release my son only because the individual who attacked him is a police officer who was off duty. I am desperate because I contact several lawyers and they charge me too much for their services. I know that You are a good and just person. I ask Corazom that you can please help me to comparative this video and I read a lot your page is shared this injustice and can someone help with their prayers #prayforchristian"
Christian Dorscht was booked into Orange County Juvenile Hall for criminal threats and battery, while a 15-year-old male was arrested for assault and battery and later released to his parents. LAPD Capt. Andy Neiman says the LAPD is conducting its own internal investigation into the actions of the officer.